Live Oxford Debate: Do "Gig Economy" Workers Need Protection?
Submitted by

nycpf

on Wed, 02/12/2020 - 8:52am
Come watch a live debate on the contentious topic of the "gig economy."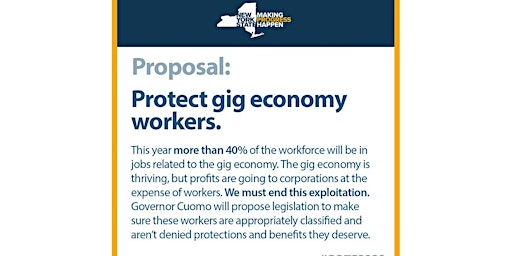 Here's the final debate resolution:
"We must end the exploitation of 'independent contractors' by passing legislation that appropriately classifies workers and reaffirms their rights."
Chuck (https://www.meetup.com/debateclub-6/members/80554492/) and Rob (https://www.meetup.com/NYC-Politics/members/191279019/)
will team up against Paul and Jeremy to engage in a civil and thoughtful debate on this topic.
The debate will be in an "Oxford-style" format (https://en.wikipedia.org/wiki/Debate#Oxford-style_debating).
**************
The event schedule:
7:00 -- doors open
7:30 -- introduction by the moderator
7:45 to 9:45 -- the debate!
9:45 to 10:00 -- event wrap-up
**************
IMPORTANT DISCLAIMER: The NYCPF is a nonpartisan organization. As such, we do not promote or advocate on behalf of any particular issues or causes. Rather, our aim is to foster independent, critical thinking by exchange of views with the highest level of intellectual rigor.
**************
Previous Oxford Debates:
▨ Jan. 8, 2020: "Healthcare should be a fundamental human right." (https://www.meetup.com/NYC-Politics/events/267377390/)
▨ Dec. 6, 2019: "This House supports the U.K. leaving the E.U." (https://www.meetup.com/NYC-Politics/events/266463982/)
▨ Oct 1, 2019: "This House supports the right to bear arms as a fundamental right." (https://www.meetup.com/NYC-Politics/events/264799445/)
▨ August 14, 2019: "This house supports reparations for slavery." (https://www.meetup.com/NYC-Politics/events/263571020/)
▨ July 17, 2019: "Social media is good for democracy." (https://www.meetup.com/NYC-Politics/events/262854423/)
▨ June 19, 2019: "Economic inequality is unjust and harmful." (https://www.meetup.com/NYC-Politics/events/262185550/)
▨ May 22, 2019: "The Democratic Party has moved too far left." (https://www.meetup.com/NYC-Politics/events/261429304/)
▨ April 24, 2019: ""Capitalism is the most morally superior political and social system." (https://www.meetup.com/NYC-Politics/events/260120605/)
▨ March 6, 2019: "The regulation of Free Speech creates a more 'civil' society." (https://www.meetup.com/NYC-Politics/events/259042993/)
▨ Jan 18, 2019: "Affirmative action is necessary to redress past racial injustices." (https://www.meetup.com/NYC-Politics/events/257427434/)
▨ Nov. 30, 2018: "On balance, illegal immigrants are a 'net positive' to society." (https://www.meetup.com/NYC-Politics/events/256231796/)