The China-North Korea Relations (Asia Society Policy Institute Panel Discussion)
Submitted by

nycpf

on Fri, 01/12/2018 - 1:08am
Our friends at the Asia Society has once again invited us and offered our group limited seats to attend a panel discussion on the status of the Sino-DPRK relationship entitled "Bitter Allies: China and North Korea" at the Asia Society https://asiasociety.org/new-york/events/bitter-allies-china-and-north-korea
**********************
Description from the event organizers: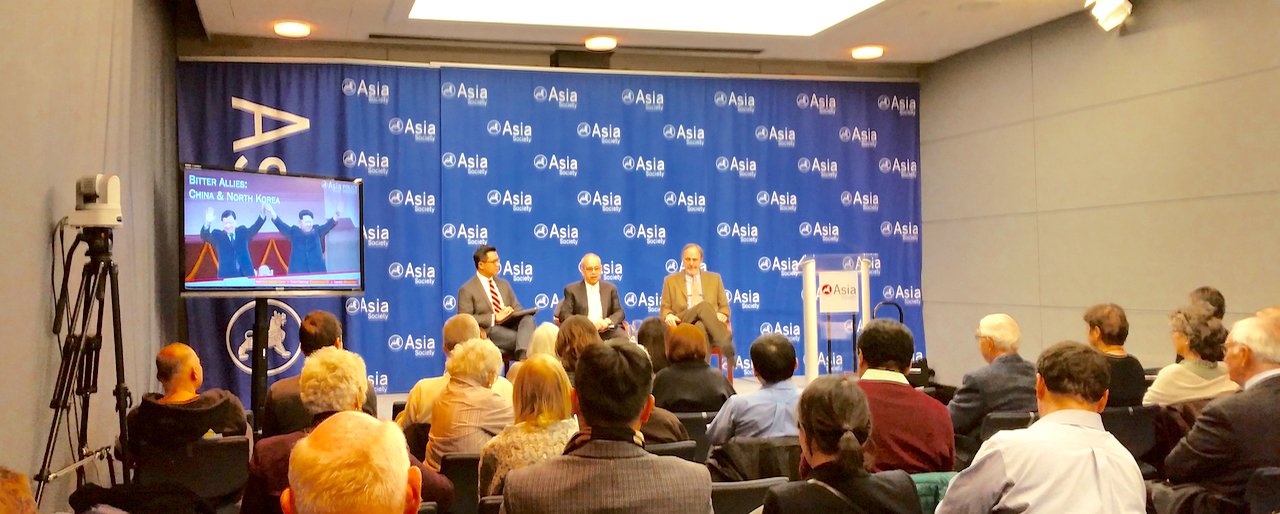 China and North Korea are nominally allies, but relations between the two neighbors – always difficult – have deteriorated as North Korea has accelerated its nuclear and ballistic missile development under Kim Jong Un. Over the past year, Kim has deliberately timed his nuclear and ballistic missile tests to coincide with high-profile Chinese events such as the BRICS summit in Xiamen, the Belt and Road forum in Beijing, and the Xi-Trump Mar-a-Lago summit. Yet, North Korea is economically dependent on China, which currently accounts for over 90 percent of its total trade volume and most food and energy imports. Although Beijing has tightened sanctions on North Korea, China remains an economic lifeline and has resisted placing regime-threatening pressure on Pyongyang.
Does the solution to the North Korea threat run through Beijing? Who really holds the upper hand in the Sino-DPRK relationship? Could Xi Jinping, who recently further strengthened his domestic grip on power, bring Kim Jong Un to heel if he wanted to? Or do socialist ties and North Korea's value as a buffer state outweigh the risks of a defiant nuclear neighbor?
This Asia Society Policy Institute panel discussion will outline the historical context of North Korea-China ties, and unpack key aspects of this critical, but often misunderstood relationship. Panelists will explore the economic, political and military relations between these "frenemies" and the implications for U.S. policy in the aftermath of the Trump-Xi Summit in Beijing.
The Speakers:
John Park is an Asia security analyst at the Harvard Kennedy School, where he serves as Director of the Korea Working Group and Adjunct Lecturer in Public Policy. He was the 2012–2013 Stanton Nuclear Security Junior Faculty Fellow at MIT's Security Studies Program. He previously directed Northeast Asia Track 1.5 projects at the U.S. Institute of Peace. Prior to that he worked at Goldman Sachs and The Boston Consulting Group. He regularly provides commentary on CNN, CNBC, BBC, and Bloomberg and has written for The Wall Street Journal, The New York Times, and The Financial Times. Dr. Park received his M.Phil. and Ph.D. from Cambridge University, and completed his pre-doctoral and post-doctoral training at Harvard Kennedy School's Belfer Center.
Michael Swaine is a Senior Fellow at the Carnegie Endowment for International Peace and one of the most prominent American analysts in Chinese security studies. Formerly a Senior Policy Analyst at the RAND Corporation, Swaine is a specialist in Chinese defense and foreign policy, U.S.-China relations, and East Asian international relations. He has authored and edited more than a dozen books and monographs and many journal articles and book chapters in these areas, directs several security-related projects with Chinese partners, and advises the U.S. government on Asian security issues. He received his doctorate in government from Harvard University.
Daniel Russel (Moderator) is Diplomat in Residence and Senior Fellow at the Asia Society Policy Institute. A career member of the Senior Foreign Service at the U.S. Department of State, he served until recently as the Assistant Secretary of State for East Asian and Pacific Affairs. Prior to his appointment as Assistant Secretary, he served at the White House as Special Assistant to the President and National Security Council's Senior Director for Asian Affairs. During his tenure there, he helped formulate President Obama's strategic rebalance to the Asia-Pacific region.
**********************
Previous Asia Society events:
"The U.S.-Iran Relations" (June 2017): https://www.meetup.com/NYC-Politics/events/240305769/
"Enhancing America's Reservoir of Goodwill in Southeast Asia" (October 2017): https://www.meetup.com/NYC-Politics/events/244064729/